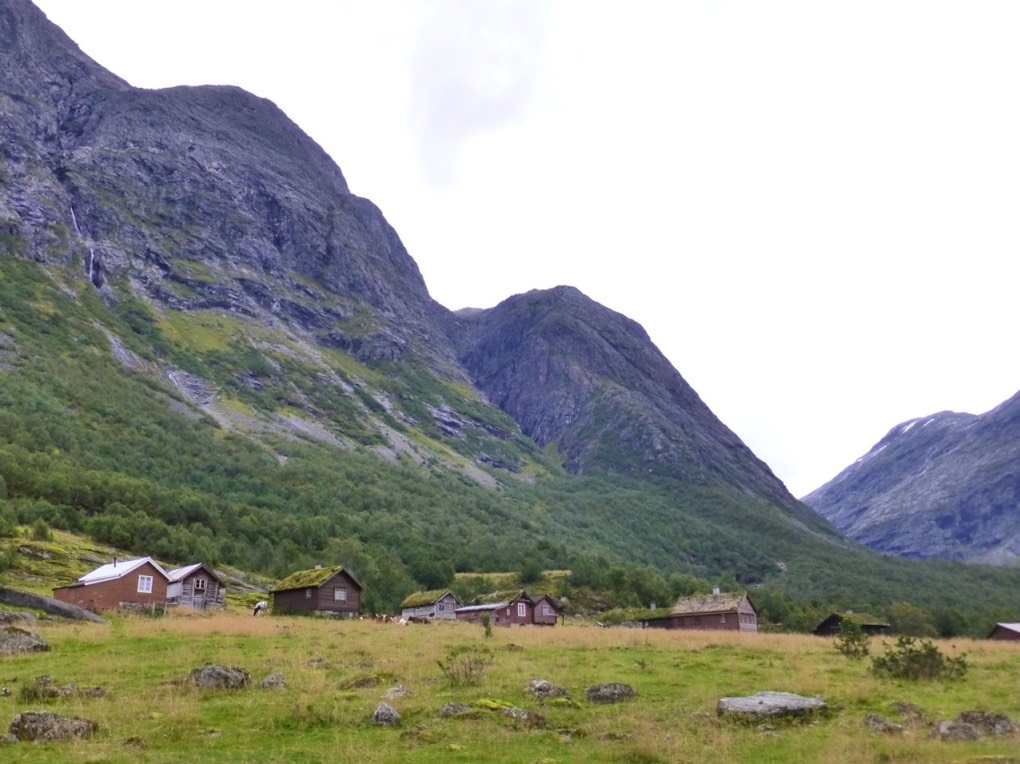 LET'S WALK TO THE OLD MOUNTAIN FARM!
I offer guided 'slow walks' in Erdalen in June, July and August. We start from Greidung, the uppermost farm in the valley. Distance to the mountain farm is ca 4 km, and takes around 40 minutes, normal speed. But we will go slowly, so that we can talk about things; the landscape, history in the valley, agriculture, general culture, flora & fauna. I come from Berge farm in Erdalen, and I know a bit of everything here.
When we come up to the Erdal seter (the mountain farm), we will rest in our old family cabin for a while. We eat our packed lunches and talk about life in earlier times - when milk and milk products were produced here - and whatever else comes to minds. In cool weather we can light a fire and stay inside, otherwise we may wander around the ' mountain village' and maybe say hello to the cows who take their summer pasture here. We can also go further on to the next 'seter' - a half hours´ walk - if we want to. Some may choose to go on while others stay behind or return down the valley ..this is not a dangerous placeJ.  
You don't need to be extra well trained to take part in the trip. The path is moderately steep (compared to the mountains around, which are REALLY steep!) and solid, as it has been well used for centuries. On rainy/cool days take good warm clothes and shoes. Something extra in a small rucksack is also nice. I like to be outdoors, and it is so nice to stay out for hours and still feel comfortable!
                                                                                                                         Unni Berge          
Facts:
-Tuesdays in June, July and August 2016.
-Meet at the car park by Greidung - almost at the end of the car road in Erdalen. The car park is marked with a P-sign.
-Duration: maximum 5 hours, less if the weather is bad.
-Price: 300 NOK, to be paid in cash at starting point.
-You don't have to book the trip beforehand, but if you have questions please call me at 90952296.